Webinar- Improving Accounts Payable Process for Oracle E-Business Suite, including Workflow
Register Webinar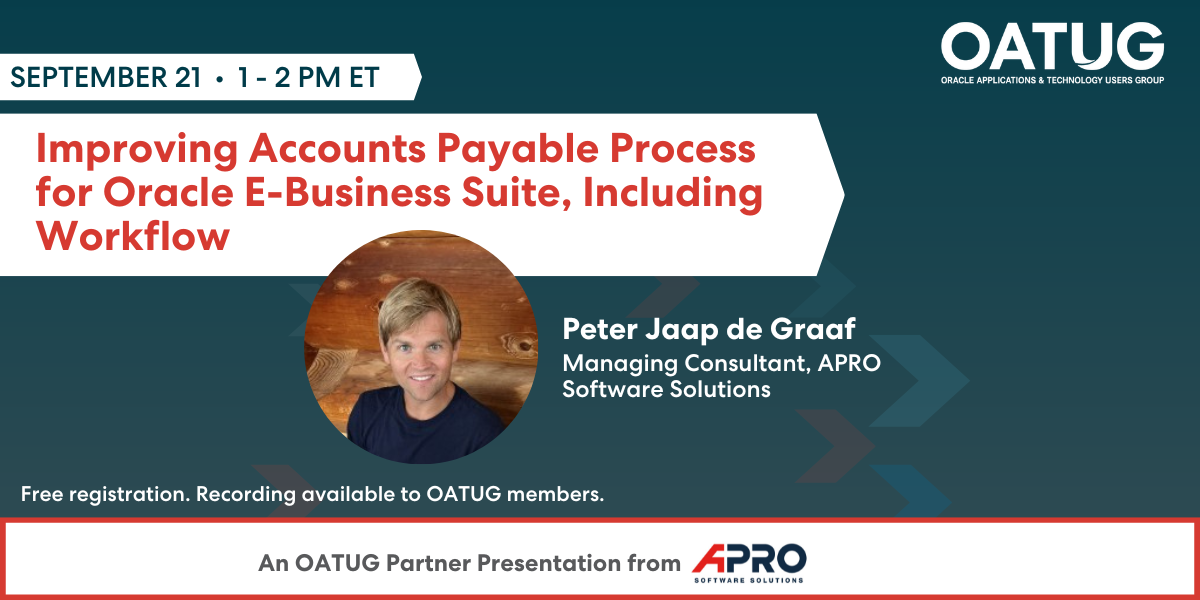 Improving Accounts Payable Process for Oracle E-Business Suite, including Workflow
Are you using Oracle E-Business Suite and looking to streamline your manual process and improve efficiency?
From receiving invoices to approval and payment processing, accounts payable is a crucial component of every organization.
Let us show you how to save time, reduce manual errors, improve accuracy, and enjoy cost savings by converting from a manual to an automated process through practical scenarios and real-life examples.
Learning Objectives:
Becoming familiar with the features and functions of AP invoice processing in combination with Oracle E-Business Suite.
Learn how to handle various approval scenarios, including 2- and 3-way match and multi-level approval.
Learn how and where a workflow can be advantageous.
Presenter:
Peter Jaap de Graaf works as Managing Consultant for APRO Software Solutions helping companies improving their AP invoice automation. Before Peter joined the APRO Team he worked as AP Specialist working with APRO Imaging in combination with Oracle Financials. During his career at APRO he did many APRO Imaging implementations, worldwide.
Online Instructions:
Login: To register for this free webinar, click "Register Now" and log in to your OATUG profile. New to OATUG? You can create a free OATUG profile easily! Click "Register Now" to create yours and complete webinar registration.
Never miss an event
Stay up-to-date webinars and conferences
I would like to receive further updates about events and webinars from APRO Software Solutions.