We would like to take the opportunity to inform you about the possibilities that APRO offers to adopt electronic invoicing, including the connection with the Peppol Network.
We hosted a webinar about E-Invoicing in combination with Oracle Fusion Financials.
E-invoicing, the process of sending and receiving invoices electronically, is becoming increasingly popular in Europe due to its ability to reduce VAT fraud and streamline business operations. Across the world, governments are recognizing the potential of e-invoicing. As a result, we can expect to see continued growth in e-invoicing adoption in the coming years.
APRO Cloud Solutions offers modules that can help you for as well the inbound processing, accounts payable, but as well for outbound invoice processing, accounts receivable.
Accounts Payable, inbound processing
APRO Cloud Solutions' APRO Imaging includes default accounts payable XML processing, handling various XML formats to avoid the need for conversion before processing it in Oracle Financials, saving on internal development and maintenance. The standard XML Mapping feature allows for customized processing, such as for specific Oracle invoice headers or lines, project information and TAX mappings. APRO ensures a user-friendly invoice image for approval, extracted from the XML or creating it based on the Oracle invoice information when the XML does not have an embedded image.
Accounts Receivables, outbound processing
The E-Invoicing Outbound module for processing Accounts Receivables invoices offers a flexible solution for electronic invoicing that caters to the unique needs per business unit and invoice source or even per customer. APRO E-Invoicing Outbound provides the flexibility to handle various XML formats and send methods. This means that you can choose the applicable format, for example for a specific country and send method; whether that be through email, SFTP or the Peppol network. This level of flexibility ensures that your customers receive invoices in the way that they prefer, reducing the risk of errors and improving the overall efficiency of the invoicing process.
Peppol Access Point for Oracle Financials
We can't stress enough the importance of the Peppol network in today's electronic invoicing landscape. As a certified access point on the Peppol network, APRO Software Solutions enables organizations to take advantage of the benefits of this secure, pan-European network for exchanging electronic invoices. With the Peppol network, you can improve the speed and reliability of your invoicing process, and reduce the costs associated with traditional paper-based invoicing. By using APRO Software Solutions as your certified access point, you can tackle two problems at once: the technical details around the XML format and the connection with the Peppol network. APRO takes care of the technical side of things and the processing, so, you can focus on your day to day process.
Learning objective
By attending this webinar, you'll gain a better understanding of how electronic invoicing can support both your accounts payable and accounts receivable processes, and how the E-Invoicing solutions from APRO Software Solutions can help you in combination with Oracle Fusion Financials.
Watch the webinar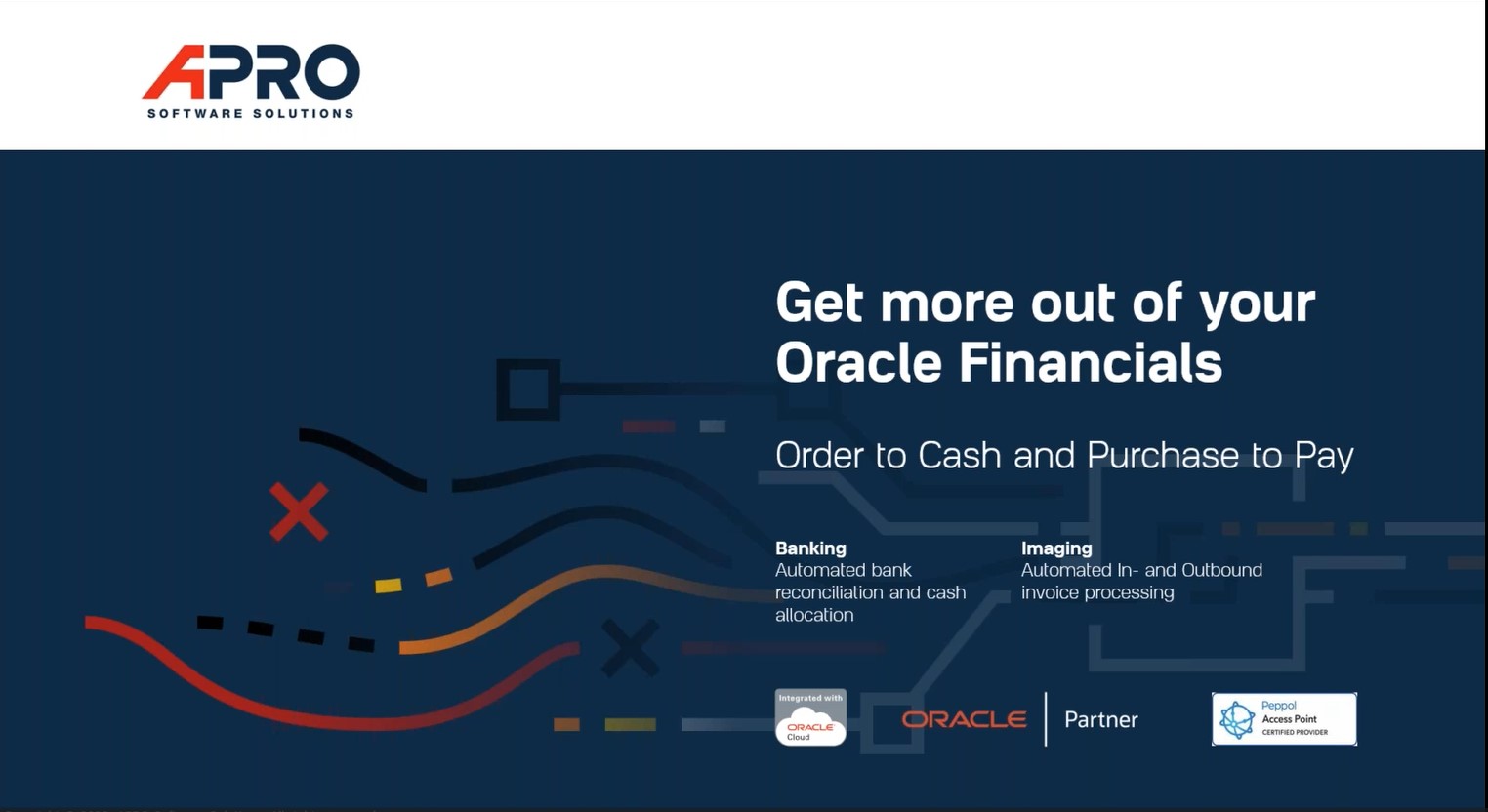 Presenters:
Peter Jaap de Graaf works as Managing Consultant for APRO Software Solutions helping companies improving their AP invoice automation. Before Peter joined the APRO Team he worked as AP Specialist working with APRO Imaging in combination with Oracle Financials. During his career at APRO he did many APRO Imaging implementations, worldwide.
Wijnand Heinen works as a Managing Director for APRO Software Solutions and helps companies improve their accounts payable invoice process in terms of efficiency and automation.
Never miss an event
Stay up-to-date webinars and conferences
I would like to receive further updates about events and webinars from APRO Software Solutions.