Total payment automation: closing the last mile
Webinar: Total payment automation: Closing the last mile
Available on-demand: watch now
Learn how to move to electronic payments with confidence, increase the number of successful payments and protect the payment process from errors & fraud.
This short 30-minute webinar by APRO Software Solutions will showcase how to automate the final part of your procurement process for Oracle Financials Cloud & E-Business Suite. We will demonstrate how APRO Banking Gateway enables the business to have consistent, systemized controls for payments for every country and a single portal for approvals and reconciliation across all banks. In addition, it will enhance controls and free up valuable IT time from maintenance of multiple host-to-host connections between Oracle ERP and your various banks and branches.
During this webinar we will highlight the following product benefits:
Automate and digitize your entire payment process; payment validation, approval, formatting, securing, transmission, acknowledgement, voiding and clearing
Get a completely automated payment process without development or long projects
Increase the number of successful payments
Protect the payment process from human errors and fraud
Move to touchless payments with confidence
Track payments seconds after payments are transferred to your bank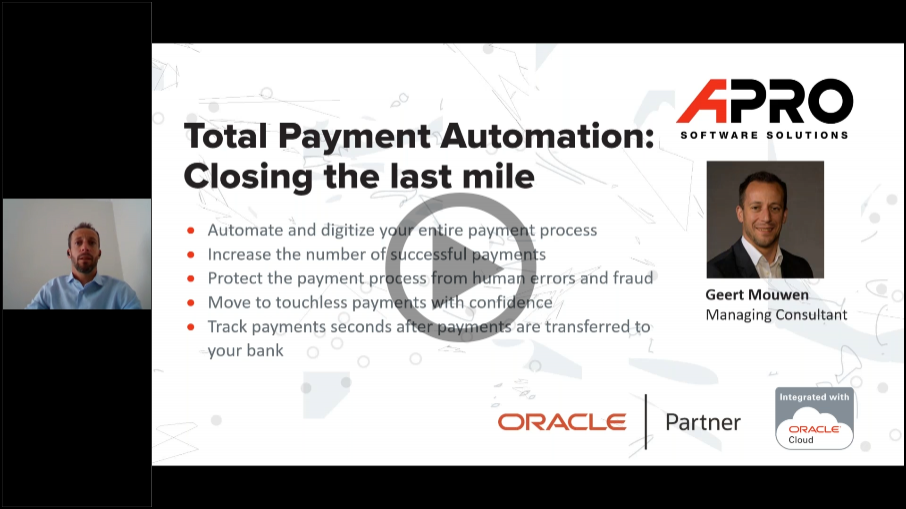 Speakers
Geert Mouwen
Geert works as Managing Consultant for APRO Software Solutions helping companies improving their cash application, bank reconciliation, global payments, and AP invoice automation. Geert worked prior as implementation consultant on global banking integration projects. In the last 10 years he worked on over 50 projects where he connected global banking fintech systems with Oracle Financials ERP providing customers with the highest levels in payment and bank statement automation for their day-to-day financial processes.
Oracle ERP
Oracle Financials Cloud
Oracle E-Business Suite
This webinar is available on-demand: watch now.
This webinar is organized in collaboration with the SROATUG.
Never miss an event
Stay up-to-date webinars and conferences
I would like to receive further updates about events and webinars from APRO Software Solutions.