How to load statements from your banks into Oracle Financials
Webinar: How to load statements from your banks into Oracle Financials
Working from home has become the new standard since the global COVID19 pandemic. For businesses this means that automation is required in order to keep vital processes flowing.
Join the on-demand webinar to learn how making some quick changes can help you keeping your vital business processes running smoothly. In this session we will focus on how you can directly connect to your banks and start loading your daily bank statements, fully automatically, in Oracle Financials Cloud or Oracle E-Business Suite using APRO Banking Gateway. Files that can be loaded are for example BAI2 formats, MT940, CAMT053, CAMT054 ISO20022 XML, lockbox files and many more. Formats are ready build available for example for: Bank of America, Citibank, Wells Fargo, JP Morgan Chase, US Bank, HSBC, Deutsche Bank, Barclays and many more global and local banks.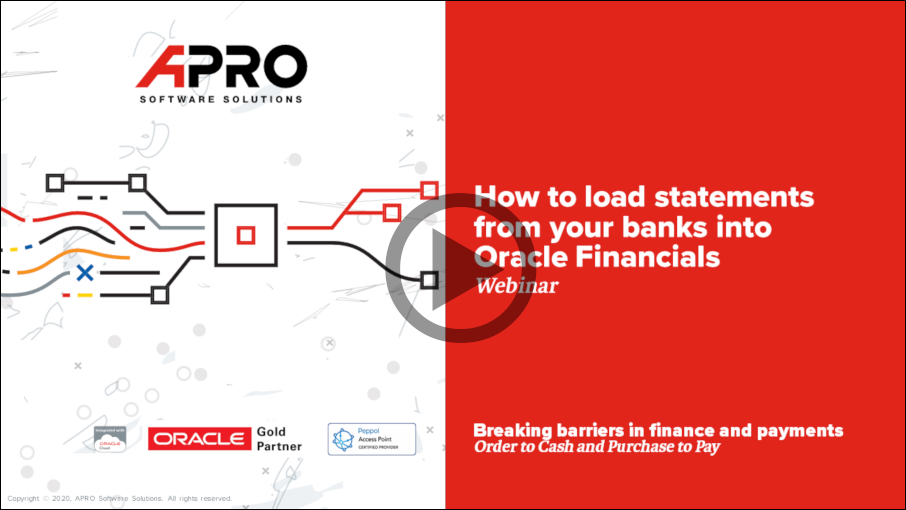 Watch the 30 minute webinar on-demand: https://register.gotowebinar.com/register/6954643451496153611
The webinar is hosted by;
Never miss an event
Stay up-to-date webinars and conferences
I would like to receive further updates about events and webinars from APRO Software Solutions.