How Mastercard Manages Their Worldwide AP Payments with Oracle R12
Watch this webinar on-demand here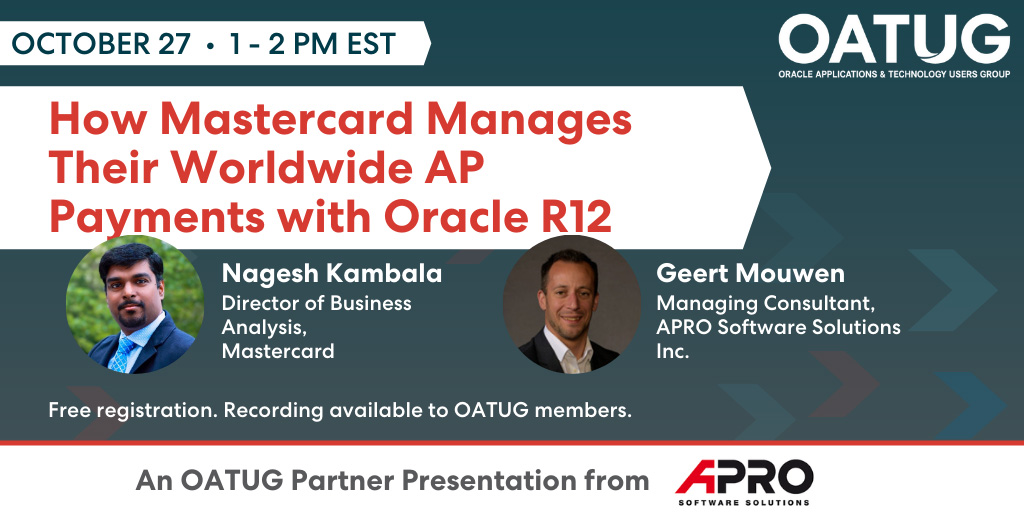 During this OATUG partner presentation you will learn how Mastercard has managed to setup and maintain their complex global B2B AP payment system and processes. Learn about the challenges the team faced dealing with ever changing business requirements and continuous expansion of business units, banks, and countries
Learn how they successfully built a scalable payment infrastructure that enhances and reduces valuable IT time from maintenance of multiple host-to-host connections between Oracle R12 and their banks. Hear how smartly leveraging their multiple banks for domestic and cross border payments resulted in recouped transaction and bank fees. Check the event page for more information and registration for this OATUG partner presentation.
Learning objectives
Learn how to setup and maintain a global multi-bank multi-country H2H payment system
Understand the benefits of using standardized systems
Gain insight on reducing failed payments and lowering bank fees
Watch the webinar
Speakers
Oracle ERP / Oracle E-Business Suite
Never miss an event
Stay up-to-date webinars and conferences
I would like to receive further updates about events and webinars from APRO Software Solutions.