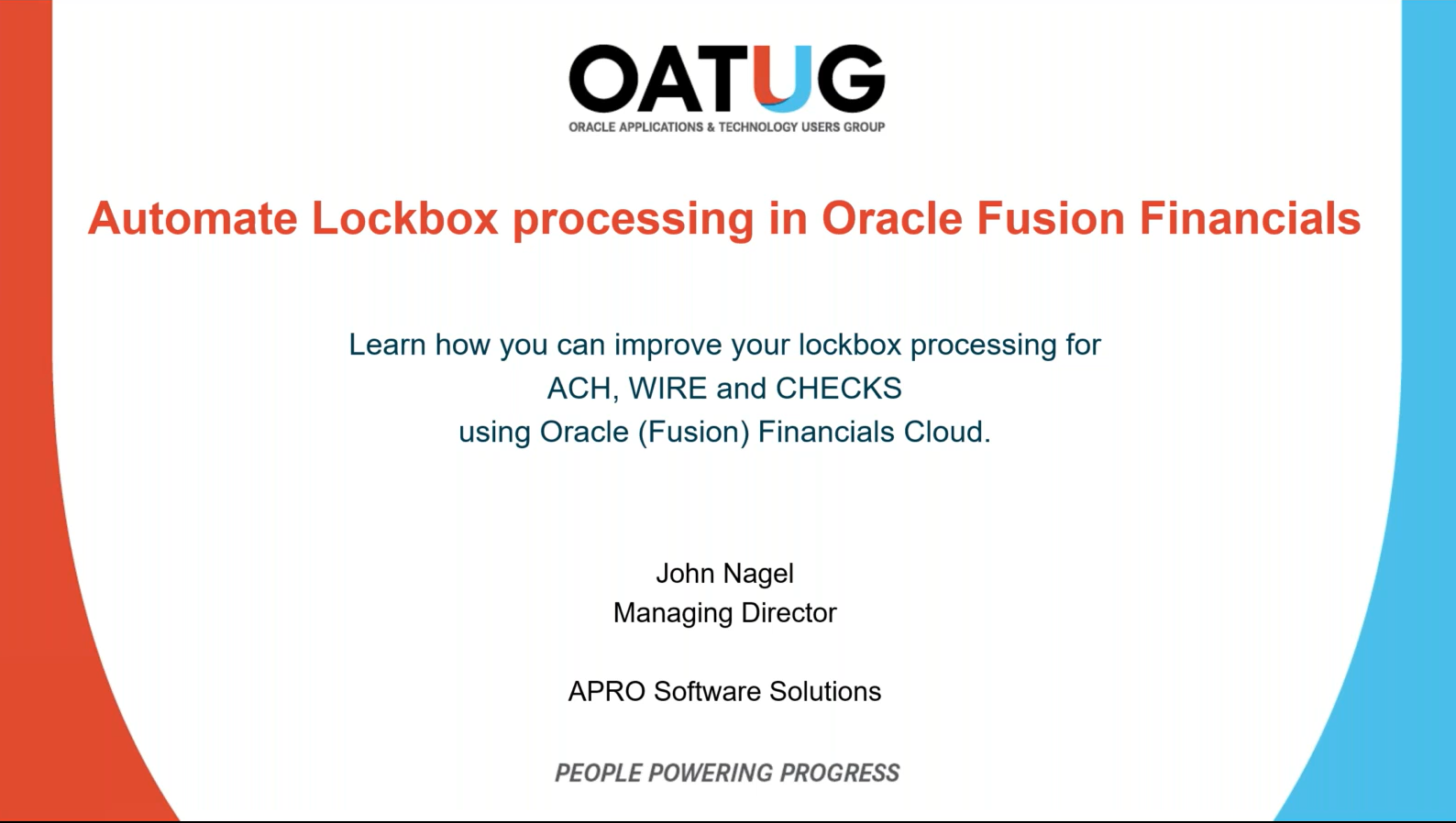 We will show how we automatically connect with your banks to download your lockbox files. Flows coming directly from your customers, i.e. remittance advices via e-mail, are also covered and loaded automatically.
With the files loaded we start an OCR process to scrape the data from the scanned checks or remittance advices. This process eliminates the need for your banks to key-in information from the checks. The data retrieved from the lockbox files/checks or remittance advices is validated against Oracle Receivables. With that data we suggest the customer and invoices to close for the received check, payment or remittance.
A dashboard will make that the users can validate and approve the suggestions from APRO. Via autolearning the system optimizes customer recognitions and per customer how to apply the found transactions.
When all suggested matches are approved the receipts are created in Oracle Receivables. With setup you can arrange a connection of the lockbox files with your bank statement (BAI2, CAMT.053, etc.) files.
Learning Objectives
Automate bank connections without custom developments
Automate the loading of Lockbox files.
Minimize bank keying costs for lockbox files.
A practical and easy to use workbench for your users
Improve automatic matching rates
No custom development and custom interfaces
Presenters:
John Nagel works as a Managing Director at APRO Software Solutions. He started as a consultant and now has almost 15 years of experience in connecting banks with Oracle ERP systems and improving bank reconciliation, cash applications and the supplier payments process. Currently he manages the sales and implementation part of APRO Banking Gateway.
Wijnand Heinen works as a Managing Director for APRO Software Solutions and helps companies improve their accounts payable invoice process in terms of efficiency and automation.
Oracle ERP
#OracleCloud #oraclefinancials #Lockbox #Cash Applications
Never miss an event
Stay up-to-date webinars and conferences
I would like to receive further updates about events and webinars from APRO Software Solutions.