Webinar – Payments and Reconciliations in Oracle Fusion Financials
Webinar
Register Webinar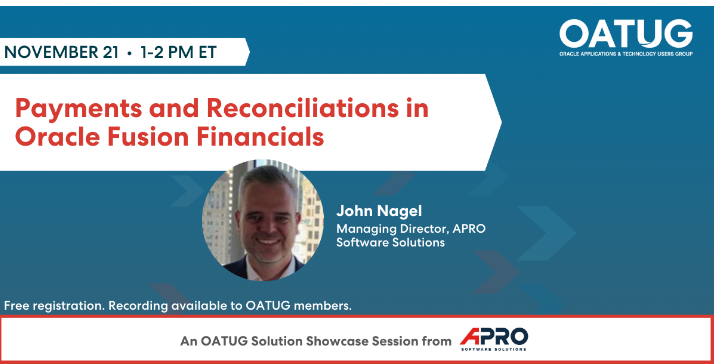 Join this webinar to learn how you can automate the final steps in your Procure to Pay process. After your invoices are approved in Oracle Financials they can be paid. During this session we will show you how we can automatically connect with your bank, create a payment file in the layout requested by your bank and transmit the file. To fully close the payments they need to be reconciled in Oracle Cash Management. We will show you how we load the files you receive the next day from your bank (BAI2, CAMT.053) and how it automatically recognizes your payments and reconciles them.
To fully monitor your payments process we will show you how we can use the acknowledgement files you receive from your bank. Files are loaded by the system and automatically the status of each payment is updated. With this you can fully keep track of the status of every payment in the process.
Furthermore we will show you the integrated reporting from the solution so that you can fully monitor your payments during all steps on the process.
Learning Objectives
Automate bank connections without custom developments
Automate the creation of payment files
Minimize the number of payment files sent to your bank
A practical and easy to use workbench for your users
Process acknowledgement files to be aware of every status of a payment during the whole process.
No custom development and custom interfaces
Presenter:
John Nagel works as a Managing Director at APRO Software Solutions. He started as a consultant and now has over 17 years of experience in connecting banks with Oracle ERP systems and improving bank reconciliation, cash applications and the supplier payments process. Currently he manages the sales and implementation part of APRO Banking Gateway.
Oracle ERP:
Oracle (Fusion) Financials Cloud
Oracle E-Business Suite
Tags
#OracleCloud #OracleFinancials #Payments #Acknowlegdgements #Reconciliations#Procure to Pay
Never miss an event
Stay up-to-date webinars and conferences
I would like to receive further updates about events and webinars from APRO Software Solutions.