AP Invoicing for EBS: from manual to automation
Webinar: AP Invoicing for EBS: from manual to automation
Available on-demand: watch now!
30-minute webinar by APRO Software Solutions showcases how to automate the AP Invoicing part of your procurement process for Oracle E-Business Suite.
See how the APRO Imaging application integrates with your Oracle EBS and how this unique integration gives you the very best matching results including line level recognition for non-PO invoices. We will end with success stories of APRO customers who benefit from the daily value they are getting with our Imaging solution.
Learning objectives
Provide confidence about moving to automation
Explain what is required in Oracle to start working with automation
Learn how automation is valuable even with low volume invoice processing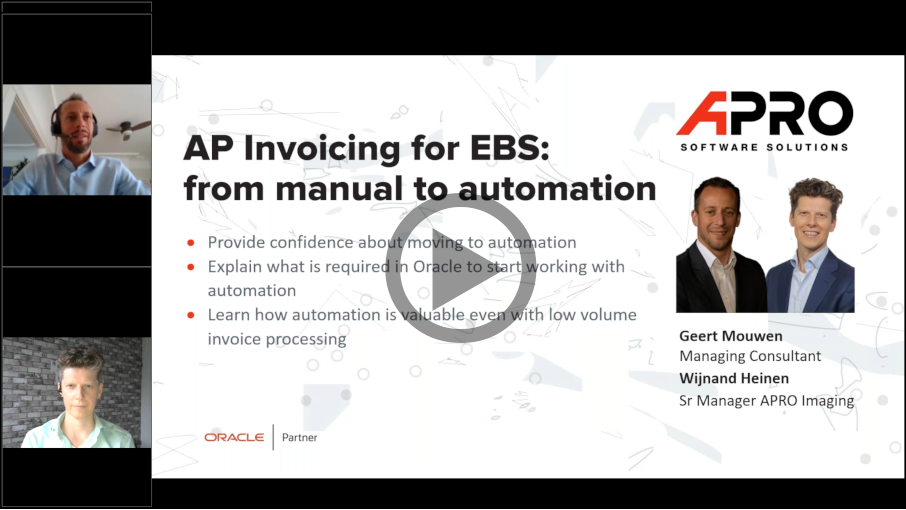 Speakers
Wijnand Heinen
Wijnand Heinen works as a senior manager for APRO Software Solutions and helps companies improve their accounts payable invoice process in terms of efficiency and automation.
Wijnand has over 15 years of experience in accounts payable invoice processing. He started his career as an implementation consultant and has helped organizations worldwide with the AP automation process. Today he is responsible for the product APRO Imaging and a team that helps customers to increase their efficiency and automation.
Geert Mouwen
Geert works as Managing Consultant for APRO Software Solutions helping companies improving their cash application, bank reconciliation, global payments, and AP invoice automation. Geert worked prior as implementation consultant on global banking integration projects. In the last 10 years he worked on over 50 projects where he connected global banking fintech systems with Oracle Financials ERP providing customers with the highest levels in payment and bank statement automation for their day-to-day financial processes.
Oracle ERP | Oracle E-Business Suite
This webinar is available on-demand: watch now!
Never miss an event
Stay up-to-date webinars and conferences
I would like to receive further updates about events and webinars from APRO Software Solutions.